Why Is GoutClear™ The #1 Choice for Gout Relief?
Read this important information below to discover how GoutClear™ can eliminate your gout suffering, once and for all.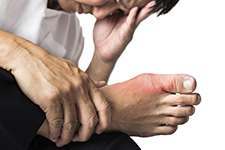 GoutClear™ is known as the ultimate, 100% natural relief for gout today. Thousands of our customers are thrilled how they haven't had even a hint of gout since using GoutClear™ In fact, they're so happy that they told us they'll never buy any of the 'cheap chemical-based alternatives' ever again. Here's why:
You see, most gout remedies contain only a few key ingredients important for gout relief. Which is why the 'chemical based alternatives' everyone buys in pharmacies might relieve your gout symptoms for a short time - but they always come back. Sometimes they don't even work at all. Isn't it time you had total relief that's 100% natural?
Most gout alternatives have less than top-notch purity, and are packaged in an improper dose. Only GoutClear™ has it all. GoutClear™ was developed to adhere to the strictest quality standards and contain more effective and bio available ingredients than any other product, hands down. Which is why people are calling it the 'Ultimate Gout Relief'. GoutClear™ is a breakthrough solution that effectively combines extensively researched ingredients known to minimize uric acid accumulation and crystallization in the joints and to relieve inflammation. Each ingredient in GoutClear™ was handpicked based on clinical data.
GoutClear™ proprietary formula utilizes 9 extensively researched ingredients that are at the top of their respective health goals in terms of quality standards, scientific research, and purity. We recommend comparing the ingredients in GoutClear™with the competition. We are confident that you will not find a better treatment for gout on the market.
GoutClear™ Follows the Highest Quality Standards

GoutClear™contains 9 tested ingredients that meet the strength and purity guidelines of the USP/NF (United States Pharmacopeia National Formulary). It is manufactured in the United States in an FDA registered laboratory that exceeds industry standards. Our manufacturing facility is GMP-certified and abides by the strictest FDA recommendations.
GoutClear™ is the Best Gout Supplement on the Market
Normalizes Uric Acid Function
Increases critical nutritional support for normal uric acid function
Helps with Joint Discomfort
Addresses joint discomfort symptoms like swelling and redness
No Negative Side Effects
Maintains optimal uric acid levels without any negative side effects
Doctor Formulated
Each ingredient was handpicked based on clinical research
100% Risk-Free Results.
Feel confident and secure with our 100% money back guarantee
GoutClear™ Gets to the Root of the Problem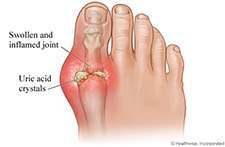 GoutClear™ stands above other products on the market, effectively relieving the problem from the inside out. Most treatments provide only temporary relief. If it temporarily helps with the pain, people will use it, and if their symptoms don't go away quickly, they'll use even more of it. It's good for the company, but bad for the consumer. This is especially problematic, as many gout treatments can actually be harmful when used repeatedly over time.
Your joints are surrounded by very sensitive tissue and cartilage. Oils, creams, and other similar gout treatments are short-term solutions that often exacerbate the problem. They usually never fix the underlying problem. It's critical to combat gout correctly, or the symptoms could worsen. In addition, high uric acid levels (hyperuricemia) may also have other risks if not brought into balance, including the formation of crystallized deposits. These deposits can lodge into critical joints and may lead to loss of bone and arthritis, which can make healing more difficult and painful.
GoutClear™ provides a maximum strength solution, attacking the core of the problem from multiple angles. When a capsule is taken, the powerful ingredients travel through your blood to support optimal uric acid levels, without any unwanted side effects. The nutrients are active throughout the day, giving you comfort on the go. Why deal with ineffective products and old-fashioned nostrums, when GoutClear™'s ingredients have provided comfort to so many?
If you are going to do just one thing for your gout suffering, this is it! And with a 100% money back guarantee you have nothing to lose except your discomfort.
GoutClear™ is Recommended by Doctors and Medical Scientists:
What Do GoutClear™ Customers Have to Say?
All testimonials reflect the range of typical results that our customers experience.
Comment by: Erica K.
I have tried every medication out there for my gout, some worked a little, others not at all. GoutClear™ was recommended to me by a friend. When I checked out the ingredients, they all made sense and were all natural, most with clinical studies backing up why they were included in the formula. So, I didn't hesitate to buy a 3 month supply. I immediately fell in love with it because of how quickly it worked and I had no side effects at all. Only after a week, the benefits were obvious. The pain subsided, as did the swelling. Amazing! After about a month or so I felt that my gout had almost disappeared. GoutClear™ got rid of my gout, full stop. I now take it as a preventative to make sure I don't suffer ever again. Finally, a supplement that gives me exactly what I need. And its NATURAL!!!!
Comment by: Stuart B.
I have suffered with gout for as long as I can remember, sometimes it was worse than others. When it really flared up I wouldn't even be able to leave the house, as it badly affected my whole body. I started using GoutClear™ about six months ago, and I couldn't be happier. My symptoms are minimal and I'm so relieved to have finally found a formula that works as advertised. Five Stars!
Comment by: Joe K.
This supplement has drastically changed my outlook on gout. I can honestly say I thought I would never get rid of it. I even used to miss work some days, just because my feet were so uncomfortable that I couldn't bear walking around in heavy boots all day (I do construction), but since finding this treatment I'm able to wear my boots all day, and the pain and swelling caused by my gout, is gone. Thank you!!
Comment by: Denny C.
GoutClear™ actually works. I have tried many many many treatments over the years, with little to no effect. This incredible formula has basically gotten rid of my gout, for good. It's such a relief to feel better. It worked so quickly too. Good Stuff. Top Product!
Comment by: Bruce S.
This is truly amazing! It really works! It took about a month but my gout is GONE after suffering for several years. I'm finally gout free and it feels AMAZING!
Comment by: Patrick R.
I love the fact it is all natural and that it works so quickly. It gave me immediate pain relief and reduced the inflammation within days of me starting to take this supplement. I have suffered greatly with gout, just when I thought it was cleared up it always seemed to come back. GoutClear™ got rid of it for good. It is worth every dime. Thank you!
Comment by: Roberta Y.
I've suffered with gout for what seems like forever, and have tried multiple things for prevention and relief. Rarely does anything help. I started using this product 2 months ago and have noticed a big difference! My feet and hands used to be constantly in pain. I have made a few other changes in my diet and lifestyle. However, I attribute my significant change to GoutClear™. If you have gout, you definitely want to try this.
Comment by: Mary B.
I would like to write a recommendation for GoutClear™. I bought this for my father who has suffered from gout for years. I felt the natural ingredients were OK for him to use long term, given his age. I did not want a prescription medication. No way. He has been using this daily for almost two months. To date, I haven't heard him complaining about his joints once, which used to be inflamed and painful. I think GoutClear™ really did the trick. I just re-ordered for the rest of the year! This is the best product on the market and to see my dad pain free and happy is priceless!!
Comment by: Martina G.
This has all the ingredients that you need to get rid of gout! What a difference this product makes! I don't know what I would do without it. Five Stars.